Since the successful launch of McAfee powered Yahoo's Search Scan, it was only a matter of time for something to go wrong. It seems luck just isn't going Yahoo's way.
According to a post on TechCrunch, a small glitch in the Yahoo! SERPs (Search Engine Result Pages) that are now powered by SearchScan showed the Google Home Page as a potential Malware Threat.
Search results on Yahoo! for the query Astalavista returned various results with Google.com as a part of search results. The Google home page was placed at position tenth and was marked as 'Dangerous Downloads'. It seems like Yahoo! somehow managed to mix-up Google's URL with that of Astalavista's.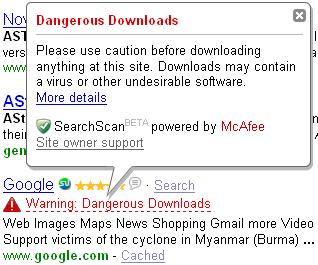 However, Yahoo! has now corrected the mistake and for the same search query, the results are exactly what they should be.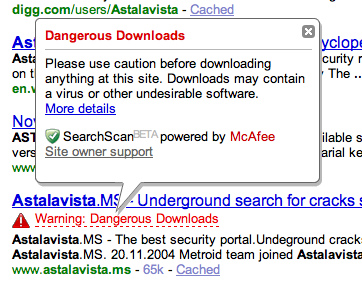 Yahoo! needs to take a second look at these mistakes, as it may cause further troubles that might be difficult to encounter. Additionally, if Yahoo! is indeed looking for a partnership with Google, it should better watch its steps.