After the buzz about Yahoo!'s layoffs had been doing the rounds of blogs, forums and the news media, it seems that the layoff is inevitable informs Silicon Alley Insider.
Sources close to Yahoo have told that Jerry Yang has decided to move forward with the layoffs. As expected the company's conference call this week is supposed to be the occasion for the official announcement. The layoffs are expected to be in the range of 1,500-2,500 as against hundreds, as was reported by the NYT and at other sources.
It is believed that the list of the employees to be laid off has been finalized over the weekend. Further, the "soon-to-be-terminated" employees will not be told until February 12th.
The big lay off at Yahoo! happened in the year 2001, at least 400 employees or 13% of the manpower was laid off. The period was mired with several restructuring measures including downsizing to perk up the revenues.
The impact of the financial impact on the company would depend on the headcount reduced.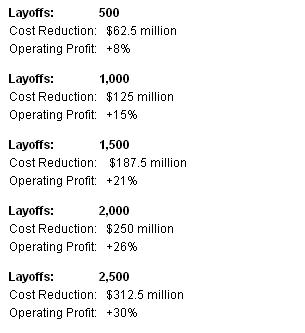 Perhaps, Yahoo! hopes to bolster enhance its sustainability and competitiveness with the move, whether that happens as expect or not, only the future will testify.