It looks like Yahoo! is all set to drop its Search Marketing Program called 'Ambassador'. According to Search Engine Roundtable, the 'Ambassador' egistration page is not accepting new member sign-ups.
At the sign up page, when a user tries to sign up via any affiliated website, the Ambassador program page shows the following results.
"Yahoo will no longer be accepting new Ambassador applications until further notice."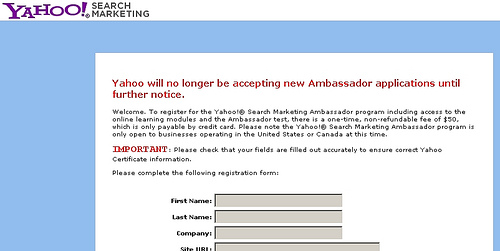 It certainly is a possibility that, Yahoo! might be in the process of closing down the Ambassador program. Although, there are several reports that users are still able to log in and check their reports. It is not at all surprising that existing users can still log in to their accounts and do all their work, because Yahoo! isn't that crazy, that it will terminate the program without any warning and leaving thousands of users hanging in mid air. But some kind of an announcement or a statement would be most welcome and a big relief to a lot of people.