Microsoft has announced that they released a new Live Search Maps India as new imagery to Virtual Earth.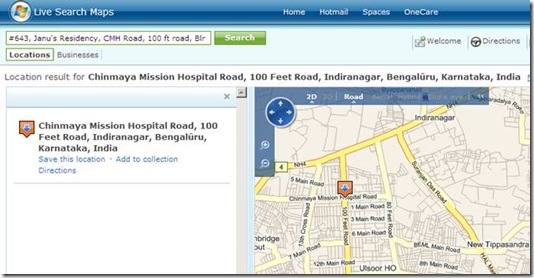 One can search for geographical things like address, roads, localities, landmarks and places of general interest like monuments, restaurants, hotels etc. for the 9 supported cities. Apart from this one can search for important geographical features and around 20,000 cities/major localities in India. However details for these cities are at much lower level. If an address can only be partly searched, it will drop the unmatched part and return the part result. Search is typo-resistant and tries to expand/abbreviate roads and locality wherever possible. – Microsoft
This is the link for this feature. I really liked it a lot.
Live Search Maps India is geared up with 9 important Indian cities:

Delhi
Mumbai
Chennai
Kolkata
Bengaluru
Hyderabad
Pune
Ahmedabad
Jaipur
In addition to that, a new "Location Search" feature along with Business Listing (Yellow Pages) Search, and other features like share/print are added.
The orthos are also updated at:
Yakima, WA
Springfield, MO
Spokane, WA
Portland, ME
Grand Rapids, MI
Billings, MT
Minneapolis, MN (UltraCam Refresh)
Seattle, WA (UltraCam Refresh)
Las Vegas, NV (UltraCam Refresh)
Phoenix, AZ (UltraCam Refresh)
Tampa, Fl (UltraCam Refresh)
The vector updates are easily available via:
Vector overlays for Navteq and MDS data sources for orthos and Bird's Eye
All mobile tiles
New British Isles Map style
The 3D update can be found in Tampa, Florida.