With almost everything clouded in the shroud of uncertainty and with all the rumors of a management shift at Yahoo! Inc, it has become too cumbersome for our readers to handle. Hence, I thought, there should be something afresh to wake up to.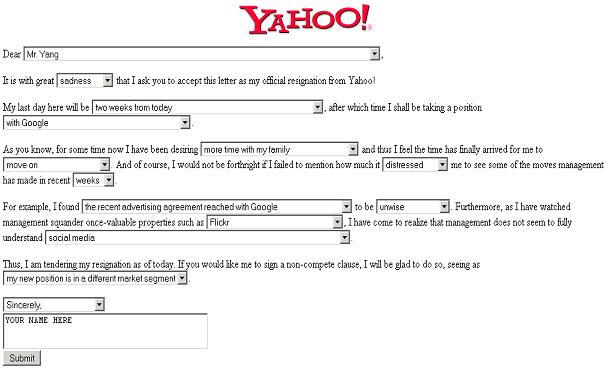 Over at the at the Seattle Times, the existence of a 'Mad-Libs' style 'Yahoo Resignation Letter' Generator' has surfaced. This really funny piece of Yahoo! parody creates a form letter with drop-down menus that provide you with a choice of three phases. (2 formal phrases & 1 really cool phrase). For example, the letter can begin "Dear Mr. Yang," "Ms. Decker," "Mr. Filo" or "whomever is running things today (sorry the org chart Wiki is changing too fast for me to keep up.)"
It continues, "It is with great (sadness, glee, self-interest) that I ask you to accept this letter as my official resignation from Yahoo!" However, as the letter continues, the phrases start turning a bit 'out of the box', but still maintain the humor in them.
But be careful before you hit the submit button, as it would in fact create a draft of the intended e-mail for the intended recipients. So enjoy the new sleek and compact 'Yahoo Resignation Letter Generator'.
A word of caution! Do not complete it and send it to your boss. 'Troubles all the Way!'