How are your keywords performing? Do you have keywords in your account which don't serve rather make it sluggish? Ever wondered how your keywords could give you a higher ROI? AdCenter advises how to achieve all this .
A judicious keyword expansion makes for efficient long-term account maintenance and reporting. Once you learn to generate quality keyword lists you would be much more effective and efficient in no time!
How to find keywords that will deliver good level of impressions on Live Search?
The first resource should be the adCenter Keyword Research tool. You can access it through the Research tab within adCenter. It is effective because all the keyword suggestions are derived from the searches conducted on Live Search & MSN over the previous month.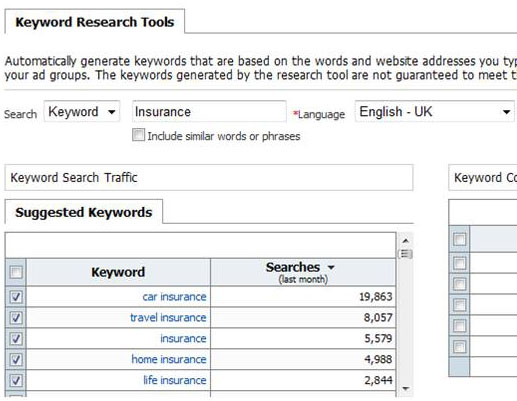 Although there is a facility to import keyword lists from other PPC programs but there's no guarantee of the traffic levels on these keywords, as the traffic levels vary with search engines. The reason for this is that different search engines have different audiences. So for Live Search always refer to the adCenter Keyword Tool.
Returns Through Misspellings & Plurals
Interestingly, many searches are performed by people misspelling or mistyping common generics such as the word 'lingerie'. However, the fact that these words haven't been spelled out correctly doesn't make them irrelevant.
You might want to make use of adCenter adLabs' Keyword Mutation Detection tool which identifies common misspellings of everyday keywords and then cash in on misspellings too!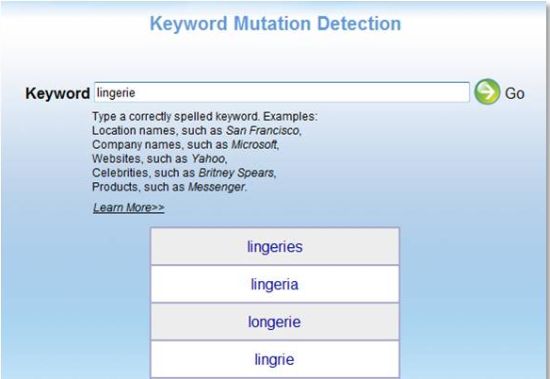 Expand Your Reach With Contextual & Keyword Variation
The AdCenter Labs' Keyword Group Detection tool can help you achieve just that. For instance if you type in the keyword 'perfume' while looking for similar or related keywords, the tool will give you suggestions for possible further expansion by returning: 'cologne', 'fragrances', 'scents', 'aftershave' etc.
Expansion Through Keyword Concatenation
Through concatenation you can create instant keywords, and this feature is especially useful to Travel, Property or Jobs websites. For example you might want to combine common actions and verbs such as 'fly' and 'hotel' with a list of destinations taken from your website to form relevant keyword lists.
Here's an example which concatenates 'hotel' and destinations using the CONCATENATE function in Microsoft Excel. However, caution is advised that overuse of concatenation "can be just as 'fattening'"