Last Friday, it was announced that the Urchin software from Google beta would be now available for download on its main site. This software from Google is a web analytics product which is similar in scope to Google Analytics, except that the software is installed and managed on the user's own server.
After Urchin 5, it was after a long wait that Google has released the latest upgraded version of the software. The beta software is recommend for evaluation purposes only. The Software is suitable for organizations, for those who want to store their web analytics on local servers and those requiring third-party data audits.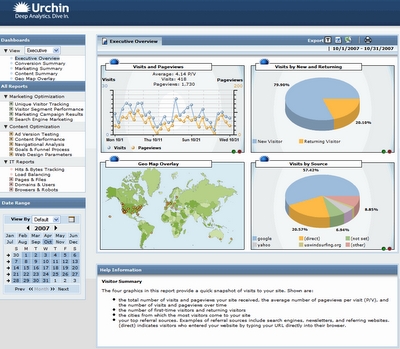 Urchin 6 Software from Google is more accurate geo-identification of visitors than Urchin 5. Though the cross -segmentation options are similar to Google Analytics, but for E-commerce and campaign tracking, you no longer require additional modules. The latest version also features a more robust log processing engine.
Discussing the release of the software on a forum most bloggers seem to have well-received the development. They think that with this move Google can aim for Larger business and corporations who are nervous about using Analytics because they don't want to share their data. Further the concluded that, "I have run into many of them. Analytics is a very easy to use and robust system, when compared to many others on the market. If they take out the whole "Google is watching" factor, I bet alot of companies would use it and would be happy to pay the one time fee. Remember, many other analytics services are paid for on a subscription basis".
The application is available for a 90 day trial. Later, you will be able to purchase it for $2995.