According to the Official Google Webmaster Central Blog:
"Keep important pages within several clicks from the homepage"
Although you may believe that users prefer a search box on your site rather than category navigation, it's uncommon for search engine crawlers to type into search boxes or navigate via pulldown menus. So make sure your important pages are clickable from the homepage and easy for Googlebot to find throughout your site. It's best to create a link architecture that's intuitive for users and crawlable for search engines. Here are more ideas to get started:
Intuitive navigation for users:
Create common user scenarios, get "in character," then try working through your site. For example, if your site is about basketball, imagine being a visitor (in this case a "baller" 🙂 trying to learn the best dribbling technique.
Starting at the homepage, if the user doesn't use the search box on your site or a pulldown menu, can they easily find the desired information (ball handling like a superstar) from the navigation links?
Let's say a user found your site through an external link, but they didn't land on the homepage. Starting from any (sub-/child) page on your site, make sure they can easily find their way to the homepage and/or other relevant sections. In other words, make sure users aren't trapped or stuck. Was the "best dribbling technique" easy for your imaginary user to find? Often breadcrumbs such as "Home > Techniques > Dribbling" help users to understand where they are.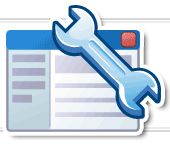 Crawlable links for search engines:
Text links are easily discovered by search engines and are often the safest bet if your priority is having your content crawled. While you're welcome to try the latest technologies, keep-in-mind that when text-based links are available and easily navigable for users, chances are that search engines can crawl your site as well.

This <a href="new-page.html">text link</a> is easy for search engines to find.

Sitemap submission is also helpful for major search engines, though it shouldn't be a substitute for crawlable link architecture. If your site utilizes newer techniques, such as AJAX, see "Verify that Googlebot finds your internal links" below.
Use descriptive anchor text:
Writing descriptive anchor text, the clickable words in a link, is a useful signal to help search engines and users alike to better understand your content. The more Google knows about your site—through your content, page titles, anchor text, etc.—the more relevant results we can return for users (and your potential search visitors). For example, if you run a basketball site and you have videos to accompany the textual content, a not-very-optimal way of linking would be:
To see all our basketball videos, <a href="videos.html">click here</a> for the entire listing.
However, instead of the generic "click here," you could rewrite the anchor text more descriptively as:
Feel free to browse all of our <a href="videos.html">basketball videos</a>.
Verify that Googlebot finds your internal links
For verified site owners, Webmaster Tools has the feature "Links > Pages with internal links" that's great for verifying that Googlebot finds most of the links you'd expect. This is especially useful if your site uses navigation involving JavaScript (which Googlebot doesn't always execute)—you'll want to make sure that Googlebot is finding other internal links as expected.
Here's an abridged snapshot of our internal links to the introductory post for "404 week at Webmaster Central." Our internal links are discovered as we had hoped.
I would like to givemy views on the same:
Link architecture— is a technique of internal linking on your site. It forms the most important step in the whole process of site design if the user really wants that his or her site should get indexed by search engines.
Link Building is an important part of Search Engine Optimization.
By this, one can get other websites to link to your website, and that too free of cost!
Link Building should be geared up with quality backlinks. This is vital in determining the rankings of a site.
Therefore, creating backlinks is the most vital aspect in order to promote and enhance your website with the search engines.