Via the Virtual Earth Blog, Microsoft has announced the launch of Live Search Local Listings Center, that will enable users to find businesses near them, or near to where they want to go. As of now, the Live Search Local Listings Center is only available to users in the United States of America.
Benefits of Live Search Local Listings Center:
It's like free advertising! The more information you provide, the easier it is for customers to find you.
Improve or update your listing anytime to suit your needs. There's no schedule or hassle.
Customers are already searching for what you provide. What better time to reach them?
Expanding your business? Congratulations! Our listings can accommodate all of your locations.
Our verification process helps protect your listing against unauthorized changes.
Process of Adding Listing to Live Search Local Listings Center:
The very first step of adding listings is to get your business verified, that means to attain a confirmation, whether or not your business is already registered with the Live Search Local Listings Center. In case if its already enlisted in the service, then you would be able to modify details of your business, if you needed.
"If your business is not found, you'll be taken to a screen that informs you of just that and allows you to continue to add your business listing to Live Search. At this point, your business listing will need to be associated with a Windows Live ID. Windows Live ID is a free way to authenticate people across pretty much every Microsoft Live Property. The next screen has the most information required for updating, so be prepared to take some time here. You'll have the opportunity to add the following information about your business listing."
Listing Owner Contact Information (First/Last Name, Phone, Email).
Basic Information about the business (Address information, Toll Free Phone Number, Fax, Web Site Address, Option for not showing address information).
Supplemental phone numbers (additional toll free numbers, customer service, etc.).
Supplemental web pages (catalogs, menus, store locator).
Supplemental email addresses.
Hours of Operation (including an open box for additional explanation).
Payment Methods Accepted.
Photos of Your Business.
Additional Information (Year Established, Company Tag Line, Business Description, Brands Carried, Specialties, Professional Affiliations, Languages Spoken, Parking Options).
Professional Contacts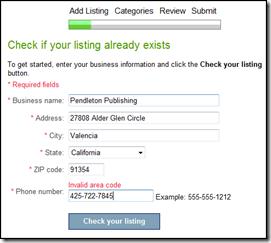 The next step is to select and add categories to associate with your business listings. These categories can be selected in order of priority and upto a maximum of 6 categories can be associated with your business. This will increase the relevance of when your listing will appear. You also have the option to add keywords to your business listing to improve search result relevance.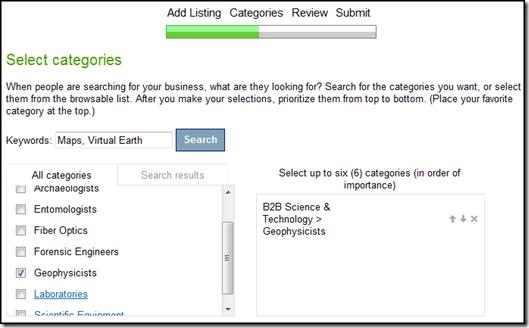 "Next, you'll have the opportunity to accurately place where on the map your listing is located. This leverages the Virtual Earth platform to pinpoint your location using our geocoding engine (with rooftop accuracy for 65 million listings). If the point isn't accurately placed on your business, you simply can click the pin and drag it to where it should be. This was my address in high school, so don't drive there looking for me – you'll scare the crap out of some family."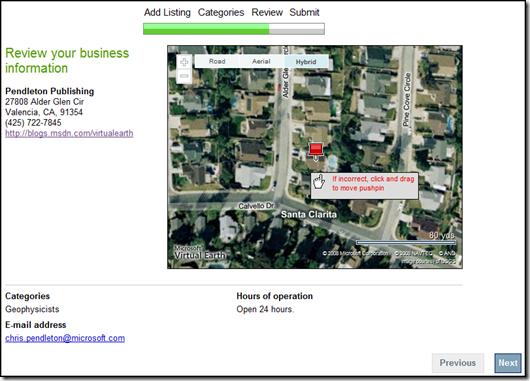 How to Opt for Listings in the Live Search Local Listings Center:
Go to maps.live.com. Search for a business. If you scroll down the search results, there would be a link "To add or edit your business listing, use the Local Listing Center."

Go to maps.live.com. Search for a business. Click on one of the business and go to the details page. There would be a link "Business owners: edit listing"
Go to maps.live.com/localsearch/default.aspx. Search for a category. There would be a link at the bottom "To add or edit your business listing, use the Local Listing Center."

Go to maps.live.com. Search for a person name. Click on "Remove my listing" on one of the results
Go to webmaster.live.com. Click on "Business listings"