Microsoft and MediaCart have come together and have come up with a computerized shopping cart which assists shoppers and delivers targeted communication at the point of purchase to help smoothen the store's operations. In order to make these location-based services available they have made use of RFID tags.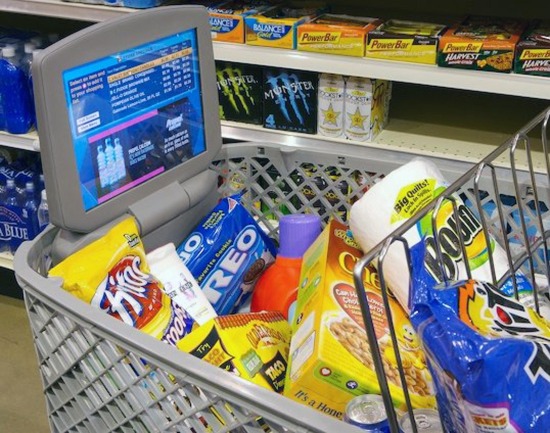 Picture Credits: Microsoft Corporation
This technology solution is supposed to offer an enhanced shopper experience in terms of time and money as it anticipates and responds to shopping needs. The customers would also be able obtain electronic coupons, locate products in the store, perform comparative price checks, view store specials in aisle as they shop, view recipes and nutritional information, shop using an electronic shopping list that is presented in aisle order, total the cost of the items in their baskets before checkout, and expedite the checkout using the cart-level checkout feature.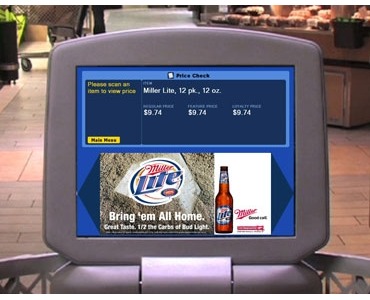 Picture Credits: Mediacart
The technology would not only benefit the consumers but also the retailers and advertisers by displaying advertisements of products which can help the retailers increase sales and profitability. The Point-of-Purchase video advertising would be triggered based on the cart's location as well as loyalty card demographics and prior shopping history. However, none of customer's shopping history and other personally identifiable information would be shared with either Microsoft, MediaCart or other advertisers, hence the privacy concerns have been allayed.

Picture Credits: Mediacart
Further, the technology will also provide advertisers with reporting and analytics capabilities to assess performance of the ads in the stores.
On the whole if the technology is adapted by retailers full on, the services like the shopping lists, comparative price checks and viewing recipes, nutritional information, etc would be quite helpful, the advertisements could be helpful if they appear when we actually need them, otherwise they could be quite a nuisance, anyways we're quite used to dealing with advertisements aren't we?