Recently, I received an email that turned out to be what Search Engine Roundtable has termed as Yahoo! Search Marketing Phishing Email Scam. Couple of days ago, there were reports surfacing of Google AdWords phishing email scams. Now that scam has taken a new face and the name of Yahoo! Search Marketing.
Here is a sample of the e-mail, that is circulating throughout the Internet: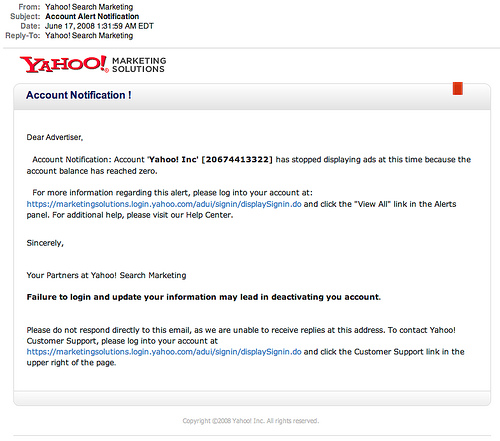 The URL that the 'click' takes you to is 'http://yms-source.com/yahoo.marketing.solutions/adui/loadSignin.htm' It is the same ysm-source.com domain. So be careful and don't ever reply to or take action on these types of emails.
There is an active discussion in regard to this concern at Digital Forums.
Here are a few excerpts from that thread:
"Hey guys, Be careful. Lot's of 'bad people' around. My account is just OK. My balance is going to be alive 4 more months. Just take every letter like this seriously and dig in its details like person who sent it and other."
"I receive all these every day, but most are directly channelled into my spam folders. It is quite fun to look at how those scammers attempted every trick on the book to trick users into clicking their links. One thing I have learned is never to click links send via email, I rather type in the link onto the location bar, a few seconds more, but I guess it is worth it. With the number of scammers on the Internet, it is often better to be safe than sorry. "
"My GMAIL to automatically shift such e-mails to SPAM Even if its in normal folder Firefox Works smart "
Well, with so much bad activity going around we all need to be extra careful and vigilant and be on our guards till this thing ends.