Mobile phones have come a long way since the initial days. Search engines are available at your fingertips, stock market revolves around your mobile set and cricket scores are just a click away! What else can you ask for!
Further the availability of iPhone and Android, has even added a new dimension to this local live search. They come with GPS navigation and help one to access all content, data and maps in seconds. And now Google has even refined the appearance of its search page when you browse through your iPhone or iPod touch.
In addition to conducting manual Google searches through Google Search application, iPhone users can now conduct searches using "Voice-Based search", a feature that makes use of voices and is getting immensely popular and viable, all thanks to the enhancement in speech recognition technology. In this case, spoken prompts guide the users to know about their relevant queries. Amazing enough!
Smartphones are marking their existence with a bang.
"A new consumer study of U.S. mobile phone users revealed that 18.9 percent of mobile consumers now use a smartphone. It also showed that 49.2 percent of those
surveyed plan to buy an advanced mobile device within the next two years."
Booth, senior vice president and program director, Interactive Local Media, The Kelsey Group said, "The implication is that users will increasingly turn to their smartphones for local commercial and social search experiences, and the data certainly suggest this is already happening."
People are flocking in to Livesearchmobile and now we know why! It is all about enhancing business ventures, socializing with others, performing a live search on mobile, navigate different sites, find latest news item, get turn by turn driving directions, and everything that you can ever imagine of! And not to forget the advertising revenue through PPC, adwords and other advertising campaigns.
Then you have GoogleSearch technology that provides the option of local search along with other features like Gmail, YouTube, Orkut, maps and more.
Or if you are addicted to Yahoo, then this one is for you: Yahoo on Mobile!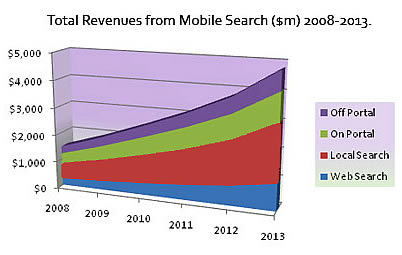 Here is one more finding: "Nearly 1.3 billion mobile users – 30% of the subscriber base – are expected to utilise local mobile search services by 2013, according to a new report from industry analysts, Juniper Research."
Additional findings from the Juniper report include:
Local search is expected to account for 43% of cumulative mobile search advertising revenues between 2008 and 2013.
User response rates to advertising which supports mobile local search are expected to be significantly higher than for advertising on general mobile web search.
While Western Europe currently accounts for the greatest volume of mobile search enquiries, it will soon be overtaken by the Far East & China region primarily through a surge in adoption within China itself.
The mobile users are using Internet at a much faster pace then ever before. Have a look at this Screen shot: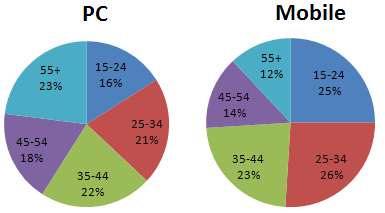 Almost all mobile carriers are equipped with local mobile search offerings, provided the handset supports it. Certainly the local search on mobile phones are on a roll!